Author: global expert Madeleine Kerkhof.
This unique book offers you, professionals in aromatherapy and aromatic medicine, insights on the specifics, potential and practical application options of over 50 CO2 extracts in their practice.
Learn…
-> how CO2 extracts are made
-> what kind of molecules they possess
-> where they are similar, or different to other oils and extracts
-> about their often exquisite fragrances
-> what their properties can be
-> which dosages are advised
-> and about their safety and other aspects
-> how you can use CO2's in clinical applications
-> how some of our peers use them
-> about examples of successful blends and cases
Madeleine: "As one of the worlds pioneers in the integrated use of CO2 extracts, I worked with these special botanicals in clinical aromatherapy and aromatic medicine for many years, and studied available literature thoroughly. Given the ongoing developments in this still relatively new plant extraction method, I too am learning more every day and I'm excited about its future options in clinical aromatherapy. With this first book of its kind, I hope to inspire you to adopt the wonderful botanicals which are now available to us all in your practice too."
Available for Euro 49,95 excluding P&P.
Inquiries and orders: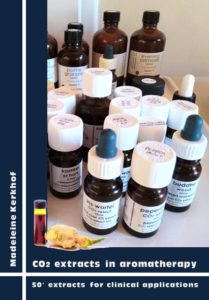 Welcome!
We are not a web shop (yet), but you can find the prices for our products on the product pages on this website. Orders are welcome through email.
You can order any quantity from small to large. We always ask payment in advance for shipments to all addresses outside of The Netherlands. Please enquire with our sales staff for your specific order.
Delivery times are variable. It can be very challenging in this time to ship products due to global delays in connection to the current pandemic.
We will always notify you on the status of the shipment.